Roll-up Banner
Roll-up Banner with stand printing
✓Supplier in Metro Manila Philippines
✓Printable (Customize your own print!)
✓100% High Quality
✓Affordable
✓Nationwide Shipping & Delivery
Roll up Banner Size: 33″ x 77″
✓FREE DELIVERY within Metro Manila Areas only
Description
Why use Roll-up Banner with stand?
Roll-up banners are a popular and effective way to display information or advertise a product or service. They are versatile and can be used in a variety of settings such as trade shows, exhibitions, events, and retail spaces. A roll-up banner is a portable and easy-to-use display system that consists of a retractable banner stand and a printed graphic panel. When not in use, the banner is rolled up and stored in the base of the stand, making it easy to transport and store.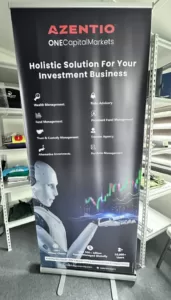 Our roll-up banners are made with high-quality materials to ensure they are durable and long-lasting. The stand is made from lightweight aluminum, which makes it easy to carry around and set up. The graphic panel is made from high-quality vinyl or fabric, which is printed with high-resolution graphics using state-of-the-art digital printing technology. This ensures that your message or branding is displayed in the best possible way.
One of the key benefits of our roll-up banners is their versatility. They come in a range of sizes, from compact desktop banners to large exhibition banners, so you can choose the one that best suits your needs. They can also be used indoors or outdoors, depending on the material of the graphic panel. Our vinyl panels are weather-resistant and can be used outdoors, while our fabric panels are best suited for indoor use.
Setting up a roll-up banner is quick and easy. The banner stand is designed to be user-friendly, with a telescopic pole that extends to the desired height and a snap rail that securely holds the graphic panel in place. The entire set-up process takes less than five minutes and requires no additional tools or equipment.
Our roll-up banners are also highly customizable. You can choose from a range of pre-designed templates or create your own custom design using our online design tool. Our experienced design team can also help you create a design that best represents your brand and messaging. We use eco-friendly, non-toxic inks in our printing process, ensuring that your banner is safe for indoor use and environmentally friendly.
In addition to their versatility and customizability, our roll-up banners are also cost-effective. They are an affordable alternative to traditional advertising methods such as billboards or TV commercials. Roll-up banners are a one-time investment that can be used multiple times, making them a great value for money.
Another benefit of using roll-up banners is their portability. They are lightweight and easy to transport, making them ideal for trade shows and events. The banner stand comes with a carrying case, which makes it easy to transport the banner from one location to another. You can easily take your roll-up banner with you wherever you go and use it to promote your business or product.
Finally, our roll-up banners are designed to last. The high-quality materials and printing ensure that your banner will look great for years to come. The retractable design also protects the graphic panel when not in use, preventing it from getting damaged or dirty. With proper care and maintenance, your roll-up banner will remain a valuable advertising tool for years to come.
In conclusion, our roll-up banners are a versatile, customizable, cost-effective, and portable advertising solution that can be used in a variety of settings. They are easy to set up, use, and maintain, making them an ideal choice for businesses of all sizes. With a wide range of sizes, materials, and customization options available, our roll-up banners are the perfect way to promote your business or product.
You can find out more about our printing capability by visiting our Facebook page: Onlinecorporate Giveaways Trading.
For orders, you can contact us by sending us an email.